I've wanted a red shawl cardigan sweater to wear during the Christmas season for as long as I can remember. For some reason, I pretty much forget about it every year after New Year's -- then, as soon as Halloween passes, I start lusting after one again.
The problem is that, for whatever reason, shawl cardigans are fairly hard to find -- and, when they turn up, they're usually only available in gray, and tan if you're lucky (not that there's anything wrong with gray or tan; they're just not what I'm looking for). Go figure.
Also, even gray ones are either too expensive (usually $300 and up -- and usually way up, to $1,000 or more).
Worse, if you find one that's cheaper, it usually looks cheap -- and is often made of cotton and looks more like a sweatshirt. (It's not that there's inherently anything wrong with a cotton sweater either, but the inexpensive, cotton shawls I've seen have almost always been cheap-looking.)
I've searched eBay often during November and December in previous years and have come up dry.
Ditto department stores and thrift stores.
Being early November, the bug bit me again tonight.
And, after searching all over the Net, I finally found one, from Ben Silver: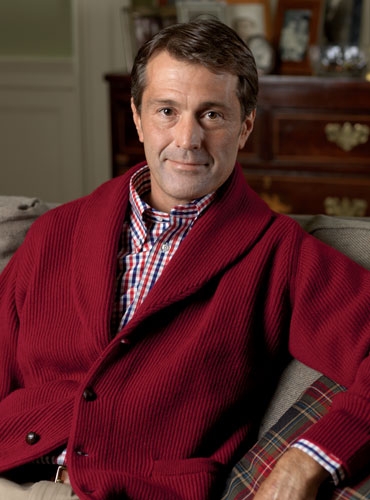 It's $215, which is pricey. But I want it, and I just may pull the trigger before the end of the month. Stay tuned.